Lilac Looks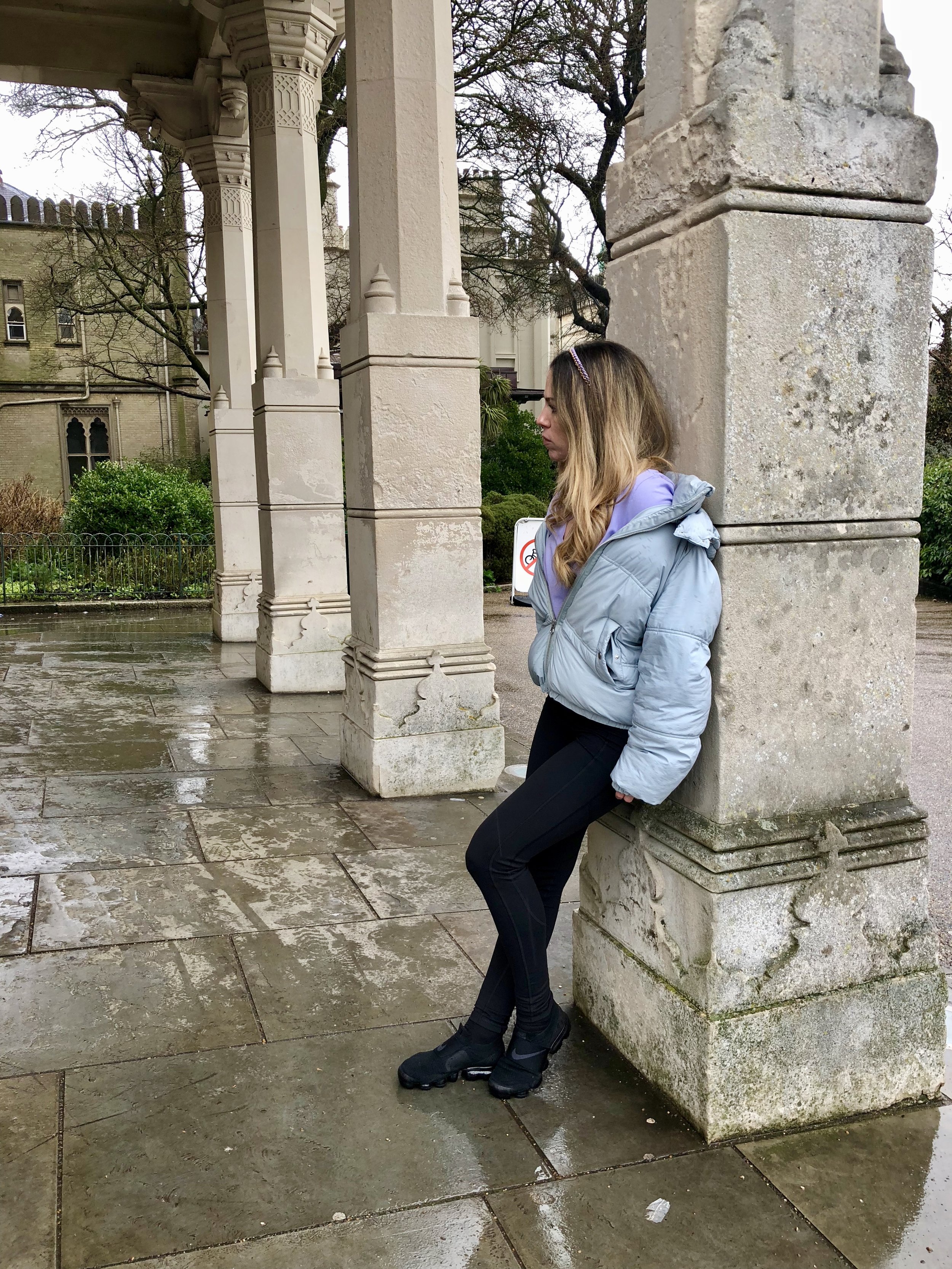 Bank Holiday Monday
Easter weekend was very wet, so wet in fact we spent the whole day trying to find 'under cover' locations to photograph outfits alongside some of my spring summer accessories. I wanted to start this shoot at The Brighton Pavilion as i'm totally in love with this exotic location, I had planned to shoot some of my accessories in the grounds gardens but as the weather turned moody we had to head undercover.
Luckily I had worn my cropped Zara mint puffer coat to keep me dry which came in handy when running to each location. I wore this with my new Nike Air vapormax flyknit moc trainers which just so happened to not be water proof (we'll touch on that review in my next post), a lilac t-shirt from Pink and Gym, leggings Victoria Secrets. My idea for this look was a 'just come out the gym, needing to runs some errands' kinda look which is where my SS18 accessories jumped in.
PRICILLIA HEADBAND LILAC & GOLD
I'm a huge headband girl, for practical reasons as well as fashion, sometimes I feel too sporty in just my gym kit so by adding a headband from my accessories collection it takes my look up a few notches. The Pricillia headband was one of my original headbands when I launched in 2010 and mixes rope with chain on a comfy covered headband. I've remade it in Lilac which i'm wearing in these shots above, it also comes in black, soft pink & butter cream colour ways. I decided to brave it and wore mine with my hair down but I also love a top knot or a low pony tail with this headband as it really shows off the gold chain on the band details.
LILAC MIRRORED AVIATORS
My wishful thinking of a spring photo shoot didn't exactly go to plan but i'm not one to be defeated, so we found a sheltered spot where we could photograph these shades. Say hello to the aviator, a frame shape that suits just about anyone, I went for a pinky lilac mirrored pair from Aldo called 'Treliwia'. I love the gold frame around the edge but most of all that they look and feel designer when worn but at a pinch of the price.
knockout black legging by victoria secrets £65.48
t-shirt by pink £28.50
nike trainers £169.95 (black has sold out online now but here's some other colour options)
aviator 'treliwia' lilac sunglasses aldo £15
pricillia headband sold in my shop £28.50
Thank you guys I would love to hear your thoughts on this look, don't forget to comment below!
Gemma x